Why Roman Shades Remain So Popular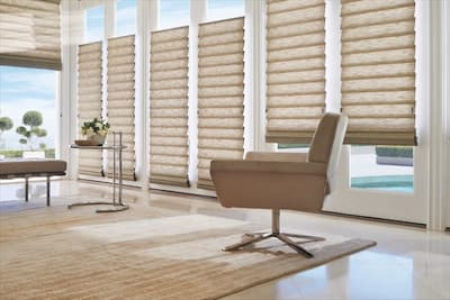 You'd be forgiven if you ever see something described as being "Roman," and you immediately start thinking about people in tunics, the coliseum, and bathhouse parties. It's nothing to be ashamed of; it just means you're a history fan of sorts. But when a shutter company provides window treatments such as roman shades, they certainly don't mean to invoke such thoughts.
Roman shades are a window covering made of a single piece of fabric that can be lowered or raised by using a cord or a cordless mechanism. When lifted, the soft fabric used for roman shades folds up neatly in steps, depending on the degree of light control one desires. As you may have guessed, roman shades have been in use for a long time. Like us folks today, the Romans needed a solution to provide them with the privacy they needed and to keep the sunlight from blinding their eyes. This window treatment was created a long time ago, though - thousands of years even - so why are roman shades still so desirable, and what can we expect from modern roman shades?
Fabric And Color Options
It isn't up for debate that the Romans were intelligent, innovative people. They had to work with what was easily accessible, though, so the types of fabrics and dyes they could use limited the range of their shades' visuals to a degree. Nowadays, however, there are limitless amounts of fabrics, colors, and patterns available for roman shades. Modern people have materials such as polyester, cotton, linen, silk, rayon, and much more. With so many resources obtainable to make roman shades with, there are endless design options that can be achieved with these window treatments.
Folding Styles
Besides fabric and color options, there are different styles of folds for your roman shades as well. If you decide that you'd like to liven up your home decor with roman shades, there are several folding styles you can choose from:
Rolling Style
Stacking Style
Plain Fold
Flat Fold
Hobbled Style
European Fold
And Many Others.
With so many options to choose from, you can be confident that you'll give your home a unique look with roman shades.
Versatility
Think about it, where can you not put roman shades? They're perfect anywhere, and that's why you'll see them in bedroom windows, bathroom windows, living room windows, and all places in between. Roman shades can be measured and cut to custom fit any window immaculately.
Functionality
You don't want a window treatment that just looks good - you want one that will provide privacy, insulate your home, filter out harmful UV rays, and control light to the degree you're most comfortable with. Roman shades fit these bills perfectly:
Different levels of opacity are available, so you can choose to let in as much natural light as you wish.
Roman shades will protect your eyes and your home furnishings from being damaged by blocking out ultraviolet rays.
Privacy is certain with roman shades because you can block out the view entirely depending on the fabric you desire.
Roman shades will make your home more energy efficient by blocking heat and cold air from entering through your windows.
Roman shades have been around for a long time, but they've never gotten old. Fit your Las Vegas home with beautiful new roman shades by contacting your leading shutter company at 725-780-4394.
Schedule Your in-home Consultation for the Best Shades, Shutters, & Blinds in the Las Vegas Area