Shutter Brothers: Spring Valley's Premier Shutter Company Services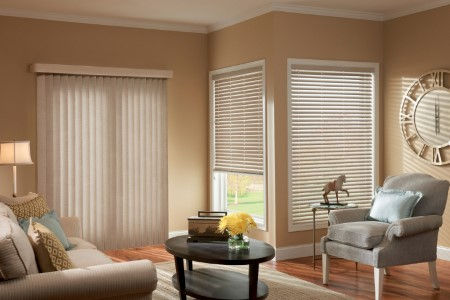 Don't stop dreaming of making your Spring Valley home's ambiance a reflection of your own artistic vision. Make it a reality with beautiful new window treatments from your leading shutter company, Shutter Brothers! Nothing makes our shutter company happier than helping our customers in Spring Valley achieve the decor they desire. We're delighted to be the area's number one source for window treatments from first-class vendors such as Norman, Draper, Hunter Douglas, Alta, and Lafayette Window Fashions.
What makes your home unique is that it genuinely is a reflection of who you are. Your sense of style, what makes you comfortable, and what brings you peace all contribute massively to how you decorate your home. Shutter Brothers understands this, and that's why we go above and beyond to ensure you love the window treatments you dress your rooms with. To assist our Spring Valley neighbors, we're delighted to provide you with an in-home consultation - completely free - to measure your windows and help you decide the window furnishing that works best for you. When you've found the right window treatment, our experts will install them for free as well. For Spring Valley window treatments and services you can trust, always rely on the Shutter Brothers shutter company!
Spring Valley's Shutter Company For Shutters And Shades
It's exceedingly rare to find someone who will walk into a home and not fall instantly in love with gorgeous interior shutters. Shutters enhance a home with charm, elegance, and grace. If shutters speak to you in a language no other window treatment can, then our shutter company is here to help!
Available in numerous colors, stains, and finishes, some of our eye-catching shutters include those such as:
Wood Shutters: Wood shutters provide warm, natural tones to any living space, and their texture is unparalleled. Our wood shutters are obtainable in many different sizes and wood types, and once you see them, they may be hard to resist!
Woodlore Shutters: Woodlore shutters are made from real wood but engineered to make them denser and more durable than standard wood shutters. With woodlore shutters, you won't' have to worry about chipping, cracking, or staining.
Composite Shutters: More affordable and durable than other shutter options, composite shutters combine strength and beauty. Because composite shutters are so moisture-resistant, they're perfect for humid areas such as bathrooms and kitchens.
Polysatin Shutters: Extremely easy to clean and repair, Polysatin shutters are a lightweight, long-lasting option that will beautify any interior space. These shutters will never warp, fade, or peel and are capable of withstanding intense sunlight.
Find The Perfect Window Blinds For Your Spring Valley Home
Window blinds are a versatile window treatment that fits well in any Spring Valley home. Window blinds give you excellent light control and privacy while not skimping out on the style points either. In the modern age, there are more styles of window blinds available than ever before. Take your pick of bold or neutral colors, light or heavy materials; the choices are almost endless. If you're looking for window blinds for your Spring Valley home, consider our superb selection:
Luxurious Wood Blinds
Alternate Wood Blinds
Faux Wood Blinds
Motorized Blinds
Vertical Blinds
Vertical Blind Alternatives
Aluminum Blinds
Along With Many More!
Schedule Your in-home Consultation for the Best Shades, Shutters, & Blinds in the Las Vegas Area