North Las Vegas's Leader in Shutter Company Services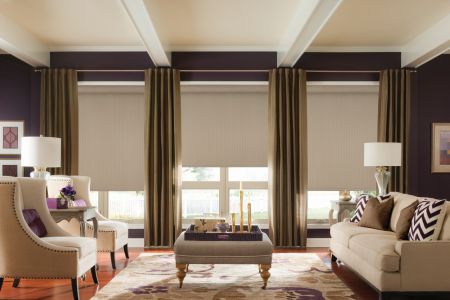 Modern window treatments provide our North Las Vegas homes with style, privacy, and light control. That's why when it comes to finding the perfect window treatment to fit your living spaces, you should depend on the shutter company people trust the most. Shutter Brothers is committed to providing our customers with excellent window treatments at prices unparalleled by competitors in the market. We believe that by delivering quality products and outstanding services, people will have good reason to always rely on our shutter company.
Shutter Brothers offers products from world-class window treatment designers such as Hunter Douglas, Alta, Norman, and many others. We ensure that all of our window furnishings meet your needs and fit your home perfectly. We're one of the only shutter companies that provide our customers with free in-home consultations, free estimates, and free installation services. Contact Shutter Brothers and find out for yourself why North Las Vegas trusts our shutter company for all their window treatment needs!
The North Las Vegas Shutter Company For Shades And Shutters
If you haven't examined shades as a window treatment to furnish your North Las Vegas home yet, then you may wish to reconsider. Modern shades are available in an endless array of fabrics and patterns that are capable of enhancing any interior aesthetic. These extremely versatile window coverings are never out of place and flow perfectly no matter what room they're fitted in. At Shutter Brothers, we have a wide selection of exceptional shades to choose from:
Honeycomb Shades
Transitional Shades
Roman Shades
Roller & Solar Screen Shades
And More!
Our window treatments don't end with shades, though. We also a stunning variety of shutters obtainable that will appeal to any North Las Vegas homeowner. Interior shutters are sure to level up your living spaces to the highest degree of elegance and charm. These alluring window treatments never fail to catch the eye, and they perform marvelously at delivering privacy and light control as well. Our shutters are available in many different styles and materials such as composite, Polysatin, wood, and woodlore!
Beautiful Window Blinds For North Las Vegas
Window blinds come in all types of shapes, styles, and materials, and choosing the right one for your North Las Vegas home is exciting as it can be overwhelming. Shutter Brothers is always delighted to assist our customers in finding the appropriate window blinds that will give them the light control and privacy they need while looking gorgeous doing so. For every style preference, we have the solution. Contact our shutter company and decide which window blinds will work best for you:
Woven Wood Blinds: These eco-friendly furnishing will give your home a warm and comfortable atmosphere. Woven wood blinds embrace their surroundings and enhance rather than distract.
Aluminum Blinds: Aluminum blinds are an affordable and stylish option that remains a staple window treatment. These blinds work wonderfully everywhere and are available in multiple colors.
Luxurious Wood Blinds: A window treatment made from handsome hardwood, luxurious wood blinds look as beautiful as their namesake suggests. Luxurious wood blinds have a unique texture and tone that you can't help but fall in love with.
Faux Wood Blinds: Faux wood blinds will give you the look of real wood blinds but are moisture-resistant and easier to maintain. Durable faux wood blinds will make a stunning addition to any home.
Schedule Your in-home Consultation for the Best Shades, Shutters, & Blinds in the Las Vegas Area