Your Local Shutter Company in Enterprise, NV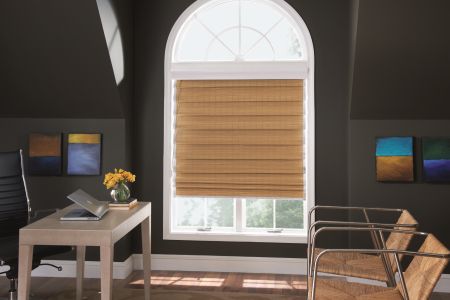 Are you looking for a dazzling window treatment suitable to fit your home in Paradise? Shutter Brothers is the shutter company you can rely on for all your window treatment and window treatment services. Our expansive collection of world-class window furnishings has something for everyone and every budget. We pride ourselves on delivering top-quality products with superb customer services. Bring your Paradise home to the next level with five-star services from your trusted local shutter company, Shutter Brothers!
Shades And Shutters From Your Leading Shutter Company
Everyone wants a window treatment that enhances their furnishings as well as the overall atmosphere in their home. We also expect them to keep the glare out of our eyes and prevent the sun from fading our favorite leather sofa. Add in the fact that we also need window treatments that give us some degree of insulation and privacy, and suddenly we realize that we expect a lot! Luckily, our shutter company's products will provide you with all the benefits one would expect from window treatments. From blackout shades to see-through solar screens, there's no reason you can't have whatever you desire from our elegant window treatments.
Shades may be the oldest window furnishing around, but they aren't going anywhere anytime soon. In fact, they're only becoming more in-demand as time goes on. Modern shades will give you all that you need and then some from a window covering. Shutter Brothers has plenty of shades to decide from, including but not limited to:
Roman Shades: Choose from a near limitless amount of fabrics, patterns, and designs for your roman shades. These timeless coverings are extraordinarily versatile and always stylish.
Honeycomb Shades: These shades are created with honeycomb air pockets woven into their fabric. While beautiful to behold, they also perform excellently at deflecting light and insulating your home.
Transitional Shades: The dual-layered panels formed into the fabric of transitional shades give them a stunning, unique look that never ceases to impress. Our selection of transitional shades is sure to make a statement in your Paradise home.
Woven Wood Shades: The natural textures and warm tones from woven wood shades always make a comfortable setting. Woven wood shades are available in materials such as bamboo, grass, reeds, and more.
We wouldn't be the Shutter Brothers without providing our Paradise customers the most elegant shutters available on the market. Arguably the most stunning of all window treatments, it's hard not to notice and remember interior shutters. Available in numerous materials, colors, and stains, shutters are capable of transforming a home's interior with a charm that is unmatched by other furnishings. If you're interested in elevating your living spaces with our beautiful shutters, speak to one of our representatives at Shutter Brothers today!
The Number One Source For Window Blinds In Paradise
There are now more styles of window blinds available than ever before. Window blinds are obtainable in a vast array of colors, materials, and control mechanisms. When you're shopping for the perfect Paradise window treatment, it would be wise not to rule out the many fabulous selections of window blinds we offer:
Luxurious Wood Blinds
Faux Wood Blinds
Vertical Blinds
Aluminum Blinds
Motorized Blinds
Alternate Wood Blinds
And Many More!
Schedule Your in-home Consultation for the Best Shades, Shutters, & Blinds in the Las Vegas Area