Bring Your Windows To The 21st Century With Motorized Blinds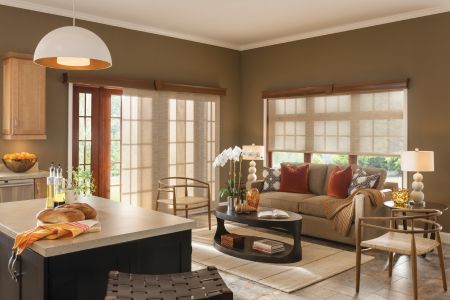 We've all seen those futuristic movies where people drive flying cars and are capable of turning large sheets of glass into three-dimensional computer screens with a wave of the hand. We aren't quite at that stage yet, but if you're perusing fashionable window furnishings at your local shutter company, you may have chanced upon a window treatment known as motorized blinds. You know what blinds are, but what are motorized blinds?
To state things simply, motorized blinds are a form of window blinds that can be raised or lowered through controls such as wall switches or remotes. They achieve the same privacy and light filtration that standard window blinds do, but there's no cord system involved. Motorized blinds let you wake up to the morning sunlight without leaving your pillow or fall asleep in your armchair without getting up to block out pesky street lights. Yes, motorized blinds are truly modern-day marvels as far as window treatments are concerned, but there are other reasons you should keep them at the top of your window furnishing options.
Elegance
Firstly, window treatments should enhance your home's aesthetic, and motorized blinds definitely check this box. Available in numerous different materials, colors, and stains, motorized blinds can match any design vision you may have. Do you gravitate towards the natural tones of wood colors? Do you prefer more of a clean, white window treatment that helps light up a room? Or maybe you'd like something neutral that doesn't compete for attention with your other furnishings? A leading shutter company will have all these options of motorized blinds available.
Home Protection
The convenience that motorized blinds will bring you isn't limited to pushing a button and making them rise or drop. They also provide your home with a reasonable degree of protection as well. Many motorized blinds have control options that let you schedule precisely when they are to draw up or lower. This means if you leave your home to vacation elsewhere for a week or more, your blinds will fool potential criminals into believing someone is still home. It's also great if you have any house plants that need time in the sun while you're away!
Complete Control
As far as convenience goes, motorized blinds are at the front of the class. When it comes to controlling options, there are more ways than ever to adjust your motorized blinds.
With a handy smartphone app, you can put your friend on speaker phone while you lower your blinds to get the glare out of your eyes.
If you prefer to keep your controls accessible to anyone in the home, a wireless wall switch can be the point of communication for your blinds.
For those of us who just love to fidget with our motorized blinds settings, there is a remote option available that will be perfect for you.
If you have an AI home assistant such as Amazon Alexa or Google Assistant, there's an option that will allow you to control your motorized blinds through them.
As you can see, there are plenty of reasons to upgrade your Las Vegas windows to the modern age with motorized blinds, and when you're ready, the experts at Shutter Brothers is here to help!
Schedule Your in-home Consultation for the Best Shades, Shutters, & Blinds in the Las Vegas Area